Sweat Sustainably: Our Favourite Sustainable Activewear Brands
Reading Time:
10
minutes
Share this story:
2020 was a tough year, but one of the many things we learnt is that moving our bodies has never felt so good – even if we had to improvise a little (yoga in the kitchen, anyone?). It's fair to say that we no longer see our exercise clothes as just gear for a weekly class, but as physical and emotional comfort, protection, and support in this 'new normal' way of life. 
No matter what the new year brings, we're sure that our need to move, stretch, and support our bodies and brains won't change. Cue our cool, comprehensive compilation of the best ethical and sustainable activewear brands out there. From second-hand co-ops to black-owned businesses, from body-positive brands to sustainable superstars, our guide has got you (and your endorphins) covered.
Outfyt
Ethics: Sustainable fabrics, ethical manufacturing, fair working conditions, zero single-use plastic, eco-friendly packaging
Collections: Womenswear
Origins: Singapore – born, Italy – fabrics, Indonesia – made in
Thanks to the Swedish roots of its founder, Outfyt channels the minimalist vibes of Scandi-chic. Think clean, simple lines in bold block colours that flatter. The functional design of its capsule collection means each piece can be worn in multiple ways, providing extra bang for your buck. All that plus sustainability is intrinsically woven into the DNA of the brand. It uses eco-friendly fabrics like ECONYL regenerated nylon (made by recovering nylon waste like fishing nets from the ocean and carpets destined for landfill) to create its signature looks. It has also removed all single-use plastics from its supply chain, and it champions ethical manufacturing in Indonesia through ensuring fair working conditions and pay for employees.
Shop here
The Giving Movement
Ethics: Sustainable fabrics, ethical manufacturing, fair working conditions, giving back, eco-friendly packaging
Collections: Menswear, womenswear, modest collection, accessories
Origins: UAE – designed and made
Not gonna lie; we're a little obsessed with the street athleisure vibes that The Giving Movement radiates. You might have twigged thanks to the name, but The Giving Movement places giving at the core of its business. For every item you purchase, it will donate $4 to its partner charities. Through its approach to conscious consumerism, it aims to create products that don't harm the planet further while also helping change the lives of those who need it most. It goes without saying that its entire line is created using sustainable fabrics like recycled nylon and biodegradable bamboo pulp. The broad collection features everything from joggers, hoodies, and sweatshirts, to shorts, tops, and sports bras. And as it's created in the UAE, there's even a modest collection.
Shop here
Zola Eve
Ethics: Sustainable fabrics, black-owned business, ethical manufacturing, fair working conditions, body-positive, eco-friendly packaging
Collections: Womenswear
Origins: UK – designed and made
It was the combination of her love of yoga and a desire to share her West African heritage that sparked Ncheta Dasilva to create Zola Eve. The British brand, which features yoga pieces in vibrant, Ankara-inspired prints, promotes the message of being who you are. It uses real women as its models, avoids photoshopping, and creates clothing that both supports and flatters women of all sizes. Zola Eve uses recycled materials, which also happen to be high-performance and ideal for exercise. Every garment is designed and produced in the UK, made by a social enterprise who eschew waste, offer training to local workers, and are all about fair wages. If plentiful prints and uplifting colours are your bag, Zola Eve is your new go-to!
Shop here
Hoya Kerry
Ethics: Sustainable fabrics, circularity, low waste, tree planting
Collections: Womenswear, accessories
Origins: Hong Kong – born, China – made
Hong Kong-based Hoya Kerry takes its name from the hoya kerii, a heart-shaped plant that is a symbol of love. And it's this ethos of love – for the planet, for yourself, and for exercise – that ripples through the brand. Its collection comprises tops, bottoms, sports bras, and accessories, providing everything you need to get your sweat on. To create the colourful Hoya Kerry look, it uses recycled polyester made out of ocean plastic waste. For every order it receives, Hoya Kerry plants a tree. In effect, it's removing waste and replacing with nature, and we're totally on board with this circular philosophy.
Shop here
Girlfriend Collective
Ethics: Sustainable fabrics, fair working conditions, body-positive, community power, circularity, eco-friendly packaging, female empowerment
Collections: Womenswear
Origins: USA – born, Taiwan – textiles, Vietnam – made
You know how some brands say they are transparent, but don't walk the talk? Well, Girlfriend Collective provides so much information surrounding its products, fabrics, supply chains, ethics, that some might say it's TMI. But not us, we love knowing everything there is to know about a brand, which is why we're huge fans of Girlfriend Collective. Aside from its excellent sustainability creds (sustainable fabrics, social accountability, ethical workplaces, recycling scheme, eco-friendly dyes, we could go on…), did we mention it creates easy-to-wear designs that suit all body shapes? Its body-positive, female empowerment messaging is a breath of fresh air and we're here for it.
Shop here
REI
Ethics: Sustainable materials, pre-loved, giving back, community power, eco-friendly packaging
Collections: Womenswear, menswear, childrenswear, accessories
Origins: USA – Born, Various – made
We're not exaggerating when we say that REI has everything for outdoor pursuits and athletic activities. The retailer covers all areas, from skiwear to running gear. Best of all, it sells both new and used items and focuses on sourcing sustainable materials like organic cotton and cellulosic fibres from trees. REI is actually a co-op, which means it puts purpose above profit. It supports its members and fellow lovers of outdoor pursuits; 70% of the annual profits are invested back into the outdoor community. REI really practises what it preaches; in 2019 it urged its employees and members to opt-out of Black Friday, and to sign up to the Opt To Act plan, which offers small steps towards reducing environmental impact.
Shop here
Nimble
Ethics: Sustainable fabric, eco-friendly packaging, fair working conditions
Collections: Womenswear
Origins: Australia – born, Taiwan – made
Sweat sustainably thanks to Nimble's beautifully designed activewear made from recycled plastic bottles. Since 2015, the brand has successfully recycled 1,025,696 of them. This is a brand on a mission to constantly improve its sustainability efforts. In addition to sustainable fabrics, it has also integrated compostable and other low-impact packaging into the mix, plus it guarantees ethical working standards at its factories in Taiwan. And when it comes to design, Nimble ups the ante by offering collections brimming with its signature snazzy prints (in addition to a block colour muted palette). Hello leopard leggings, we've been waiting for you.
Shop here
Groceries Apparel
Ethics: Sustainable fabrics, ethical manufacturing, low waste, fair working conditions
Collections: Womenswear, unisex, face masks
Origins: Los Angeles – born and made
Groceries Apparel is undeniably cool – and not just for its fun offerings (tie-dye 4eva!). The L.A. brand offers a range of athleticwear and loungewear in sustainable fabrics, from eucalyptus and hemp to recycled plastic and organic cotton. The company manufactures in its own factory to ensure that standards are met and production is traceable. Unable to find non-toxic dyes in the area, it also makes its own vegetable dyes. Groceries Apparel has lots of other ethical, sustainable priorities, including reduced waste, a low carbon footprint, and minimal redundancies. It also supports fair employee pay and keeping everything local.
Shop here
Pact
Ethics: Sustainable fabrics, giving back, Fair Trade Certified, eco-friendly packaging
Collections: Womenswear, menswear, childrenswear, cosmetics
Origins: USA Colorado – born, Various (e.g. India, Turkey) – made
Pact is known for its simple, sustainable basics – and lucky for us, that includes activewear. The brand, whose aim is to build 'Earth's favourite clothing company', offers a small but sturdy range of leggings and bras for those light yoga workouts, long walks, and chilled stretch sessions. Every item made starts with organic cotton (all of Pact's products are Certified Organic by GOTS). The company's sustainability accolades also include recycled packaging, the option for customers to offset the carbon footprint of their shipment, and reusable GiveBack boxes in which customers can donate their old clothes to non-profits. Pact is also big on ethical standards, partnering with Fair Trade Certified factories.
Shop here
Wolven
Ethics: Sustainable fabrics, ethical manufacturing, eco-friendly packaging, environmental partnerships
Collections: Womenswear, menswear
Origins: USA – born, China – made
Wolven's tagline is spot on; they do make sustainability sexy. Their pieces are colourful, inspiring, and slightly spiritual – we're talking jazzy patterns like Mandala, Chakra, and Reverie. You can find the usual active must-haves, but there are also a few unicorns in the gang, like stretchy, seventies-style bell bottoms (which they recommend for roller skating. Yes, this is amazing) and a reversible four-way bra top. Now onto their credentials: they make activewear from recycled bottles (27 in one pair of leggings!), ensure shipments are carbon-neutral, offset their own carbon emissions, support rainforest conservation, celebrate different shapes and sizes, use carbon neutral fabrics (sustainably harvested cellulose fibre) and certified recycled fabrics (OEKO-Tex), and package their goods in hemp and recycled packaging. Phew! Got all that?
Shop here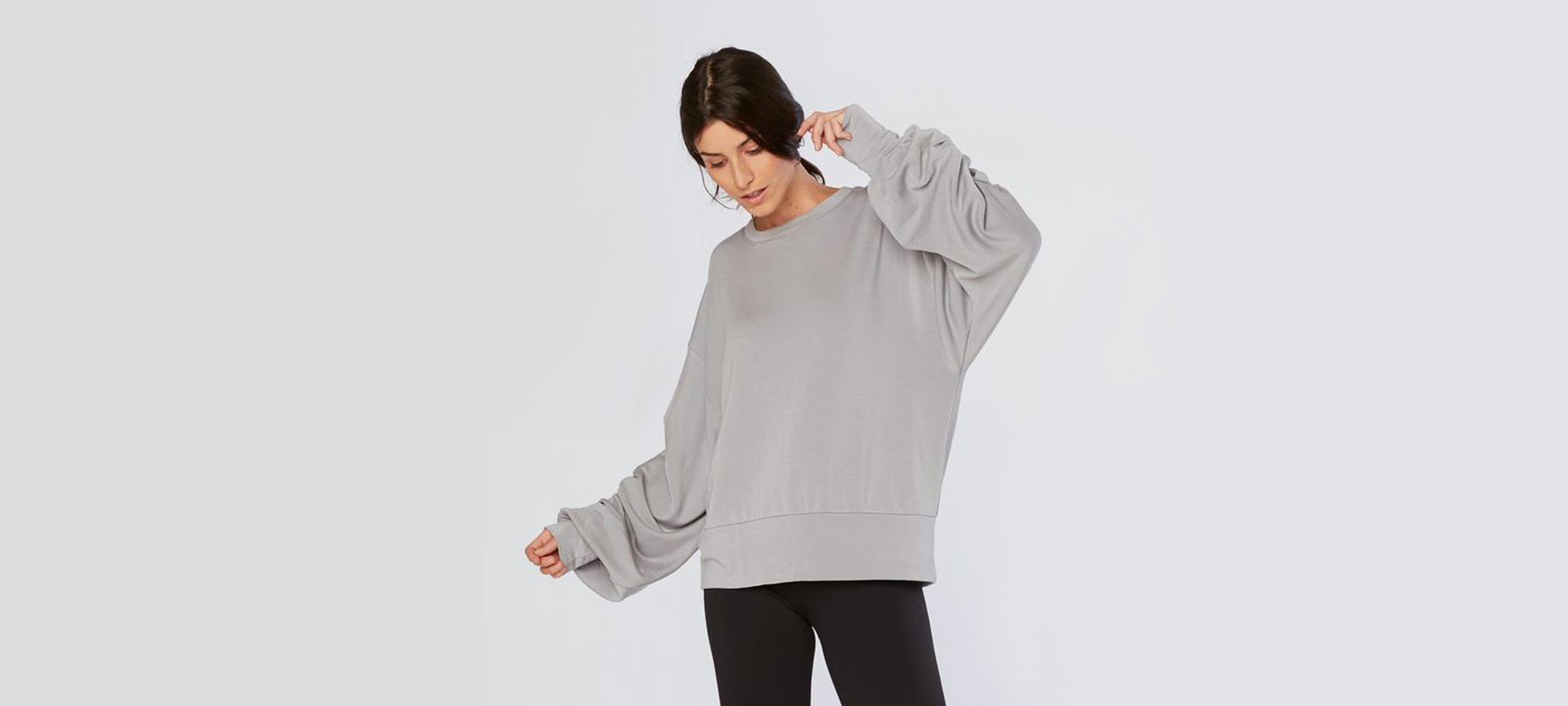 Threads 4 Thought
Ethics: Sustainable fabrics, pre-loved, ethical manufacturing, giving back, transparency
Collections: Womenswear, menswear, childrenswear, face masks, sustainable items
Origins: USA – Born, Guatemala and China – made
ReActive is the name of the women's exercise game at Threads 4 Thought. Each piece in the collection is made from either recycled plastic bottles or recycled fishing nets. As per the brand's style, each item is simple, classic, and resilient. The brand uses only sustainable materials, including organic cotton and recycled polyester, works exclusively with factories that hold the highest industrial certifications, and partners with the International Rescue Committee, donating a percentage of their profits to in-need communities around the world. They're also super transparent; their website has a dedicated page for their sustainability report.
Shop here
Circle Sportswear
Ethics: Sustainable fabrics, circularity, eco-friendly packaging, ethical manufacturing, fair working conditions, giving back
Collections: Womenswear, menswear
Origins: France – born
Circle by name, circular in nature, this French company creates recycled and recyclable sportswear in order to save the planet. Circle's clothing, which ranges from the usual suspects to items like neck-warmers and unisex t-shirts, is developed from recycled waste or recycled nylon and is made in a family-run Portuguese workshop. All materials come from Europe and the pieces are made by workers in Europe who are guaranteed health coverage, a fair salary, and good working conditions. The clothes travel a maximum of 4,500 km by ethanol trucks to get to your door (unless you're in Paris, where they can be dropped off by the brand's bike messengers). The brand also follows a pre-order production model which means they make only the amount they need. As it's a sportswear brand, Circle cares about durability – pro athletes have tested its clothing in more than 20 sports. If your purchase starts to show wear and tear, the company will repair, donate, or upcycle it. Oh, and 1% of the brand's turnover is put towards protecting the oceans.
Shop here
Patagonia
Ethics: Sustainable fabrics, pre-loved, environmental partnerships, transparency, community power
Collections: Womenswear, menswear, childrenswear, accessories
It wouldn't be a complete activewear guide without the inclusion of gentle giant, Patagonia. The California-based brand, known for its outdoor wear, is passionate about caring for the planet. As well as creating new items using recycled materials, it also sells 'Worn Wear'. Really, when it comes to taking action for the planet, what isn't the brand doing? It pays a self-imposed Earth tax (1% For The Planet) which supports environmental non-profits, discourages customers from buying too many of its items (for real), and runs Patagonia Action Works which allows customers to connect with grassroots environmental groups and take action in their area. Also, in the Activism section on its website, the brand offers tons of insightful articles on environmental conflicts and the projects the company is involved in.
Shop here
Ernest Leoty
Ethics: Sustainable fabrics, eco-friendly packaging
Collections: Womenswear
Origins: France – born, Europe – made
This one's for all of you couture-loving lasses out there. Ernest Leoty offers luxury activewear made by the crème de la crème of both fashion and technical design (past credentials: French couture and Olympic kit). The French brand, which offers a specific sustainable collection, exudes that chic Parisian aesthetic – clean lines, classic colours (using their own dyes), and sleek body-hugging silhouettes. The brand was inspired by the corset and the confidence it brings, which is why, as well as activewear staples, it sells tank tops in a corset style – only, comfortable and durable, of course! Every item in their sustainable Technical Knit Collection is crafted from Q-NOVA recycled polyamide, an eco-friendly sustainable fibre taken from regenerated raw materials. Its fabrics are also moisture-wicking, pilling resistant, and carry UV protection.
Shop here
Summersalt
Ethics: Sustainable fabrics, body-positive, eco-friendly packaging
Collections: Womenswear
Origins: USA – born, Asia and China – made
Summersalt is best known for its sustainable swimwear, but the brand also has an eco-friendly activewear collection. Not only does it use known eco-friendly fabrics like TENCEL, but it also turns recycled materials (including plastic bottles) into fabrics like Eco-French Terry and High Pile Eco-Fleece. All of this culminates in an impressive range of items, from bike shorts to cosy hoodies. The designs are sleek and modern, but it's really the colours and prints that steal the show, like these fresh sage leggings. Summersalt's packaging is also thoughtful, made up of recycled materials where possible. As for getting the right fit, the brand is all over it; it recorded over one million body measurements from 10,000 women!
Shop here
Athleta
Ethics: Sustainable fabrics, body-positive, fair working conditions, Fair Trade Certified, female empowerment, community power
Collections: Womenswear, teen womenswear, face masks
Origins: USA – born, various – made
San Francisco-based Athleta (an off-shoot of Gap) is a veritable emporium of sustainable women's activewear. From sporty turtlenecks to tennis skorts, the brand knows that females are out there killing it in a variety of sports and thus wholeheartedly caters to them. With a hashtag of #powerofshe, Athleta is huge on female empowerment and partners with Movement, which offers women and girls financial support and access to fitness opportunities. It's also super body positive with sizing encompassing a wide range of sizes, including petite, tall, and 1X-3X. Over 70% of Athleta's materials, including polyester and lycra, are made from recycled or sustainable fibres, and many of them are quick-drying, sun-safe, water-resistant, and – thank the heavens – anti-chafing. Each item is also made in a Fair Trade Certified factory, ensuring fair conditions and wages.
Shop here
Get your sustainable activewear for a greener and more ethical sweat.
Help us keep our content free
It seems like you enjoyed our content and are on your way to better understanding how to be more conscious. As you'll know, we're on a mission to make sustainability accessible, mainstream and sexy. And we would not be able to do it with you. We would love you to support us even further in our GITNB movement by helping us create even more content to keep inspiring you and the rest of the world. Aside from being able to enjoy even better reads, you'll also receive a GITNB t-shirt consciously made from upcycled fabrics in partnership with a Cambodian social enterprise supporting women. For a small donation you will make a huge difference.
SUPPORT US HERE